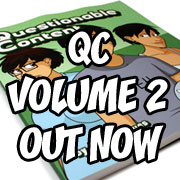 So one of only few webcomics I regularly read is
Questionable content
, it features nerds, robots and romance.
I've bought merchandise from them more than once in the past and like many are happy to support a internet based indie effort get by without them having to
have day jobs
.
Now at the bottom of the comic I linked to is a complaint about a smartphone app that scraps various webcomics from the web and display them on your phone. They then serve ads with the free version, or charge if you get the paid version.
Blog all about it
.
I was surprised to see the author complain
This isn't the first time someone's written an app or coded a website that does this sort of thing, and it probably won't be the last. But I want to state here, for the record, that I think this sort of thing is awful and will never, ever grant permission for my work to be used in this way
and
And a note to anyone considering doing this kind of thing themselves: it is stealing. It is not okay to take someone else's work and sell it without their permission. Don't do it. Everyone will hate you.

The main thing this has taught me is that I need some sort of official QC app for smartphones. I'll look into it.
Now I actually have the
Dilbert
mobile phone app that provides minutes of entertainment at a time, the comic format fits well on my phone. Personally I have no desire for a questionable content app as the comics are too high res and can't be full appreciated on a phone in my opinion, others may disagree.
But if I
did
have enough resolution, say I had a tablet device for instance, I would like an all in one application that aggregates multiple comics. Questionable content suggesting making their own version enough isn't going to so as well as a multi site application.
I consider it ethical to sell freely available data with 3rd party code and make money from it, it's called value add, it's also much of Google's search business model. Also I believe market economics would have produced a completely free version of this app if it existed, but it hasn't, so its existence is justified.
Personally I'm torn because I respect the author, the moral rights to his work and the work itself, but on the other hand I feel the creators sense of entitlement, even at this small scale could be as warped as the largest IP-defending corporation.