Following the success of Pirates for Iceland, and the strong showing of the Icelandic Pirate Party the next European Election on the horizon for Pirates to keep an eye on is the Dutch General Election in March 2017.
Proportional Representation:
The Dutch electoral system is one of the most inclusive systems in the whole of Europe. There are 150 seats in the Dutch Parliament (Tweede Kamer - "House of Representatives") and there is straightforward proportional representation across the whole country in a single election. This means that it is theoretically possible to gain a seat in Parliament whilst getting just under 1% of the vote across the country as a whole.
Previous Results:
Despite this potential free-for-all the Dutch have been remarkably restrained historically and at the last elections in 2012 there were 11 parties that made it into Parliament. The Dutch Pirate Party (Piratenpartij) was 'best of the rest' 5 years ago - just failing to make it into parliament having got a vote share of 0.3%. 2 Years ago however, during the elections to the European Parliament the Dutch Pirates had improved again with a vote share of 0.8% - enough to secure a single seat if repeated in March.
With a number of traditionally "liberal" parties (both VVD, a 'conservative-liberal party' currently in Government, and D-66 are part of the Liberal grouping in the European Parliament) as well as a 'Green-Left' party taking the position that the Green party occupy in the UK - the Dutch Pirate Party have a very specific and focused campaign - copyright and patent reform, transparency of government, and the protection and strengthening of digital rights.
Lead Candidate and wider consequences: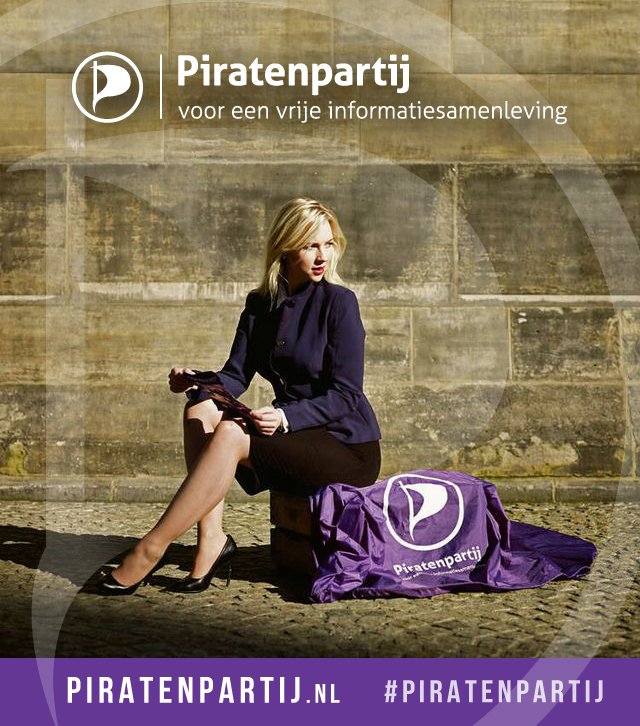 Piratenpartij is lead by Ancilla van de Leest - a Pirate with an interesting back story and someone who seems to have that unusual talent of bringing what can sometimes be somewhat theoretical and abstract ideas to life and give them a real meaning for people.
It is really important for the wider European Pirate movement that the Dutch Pirates succeed in getting elected to Parliament to bring our unique approach to politics. We have seen with Julia Reda (@senficon) in the European Parliament what a difference even a single Pirate can make - and this is another chance to enable people to see that even just 1 or 2 Pirates can make a real difference when elected to a national legislature.
So let's support our Dutch Pirates - and if you happening to be visiting at some point in the next few months - get in touch with them and see what you can do to help locally whereever you will be.
You can find them on social media at @piratenpartij and @ncilla